What has three wheels, two seats, and no gas tank? The newest sightseeing car from Oregon-based electric vehicle company Arcimoto. 
San Francisco tour company GoCar Tours added its first electric vehicle to its sightseeing fleet and the first bright yellow three-wheeled Arcimoto arrived this week. Eventually 40 of the EVs will be available for tourists to take GPS tours throughout the city — and for the first time drive across the Golden Gate Bridge.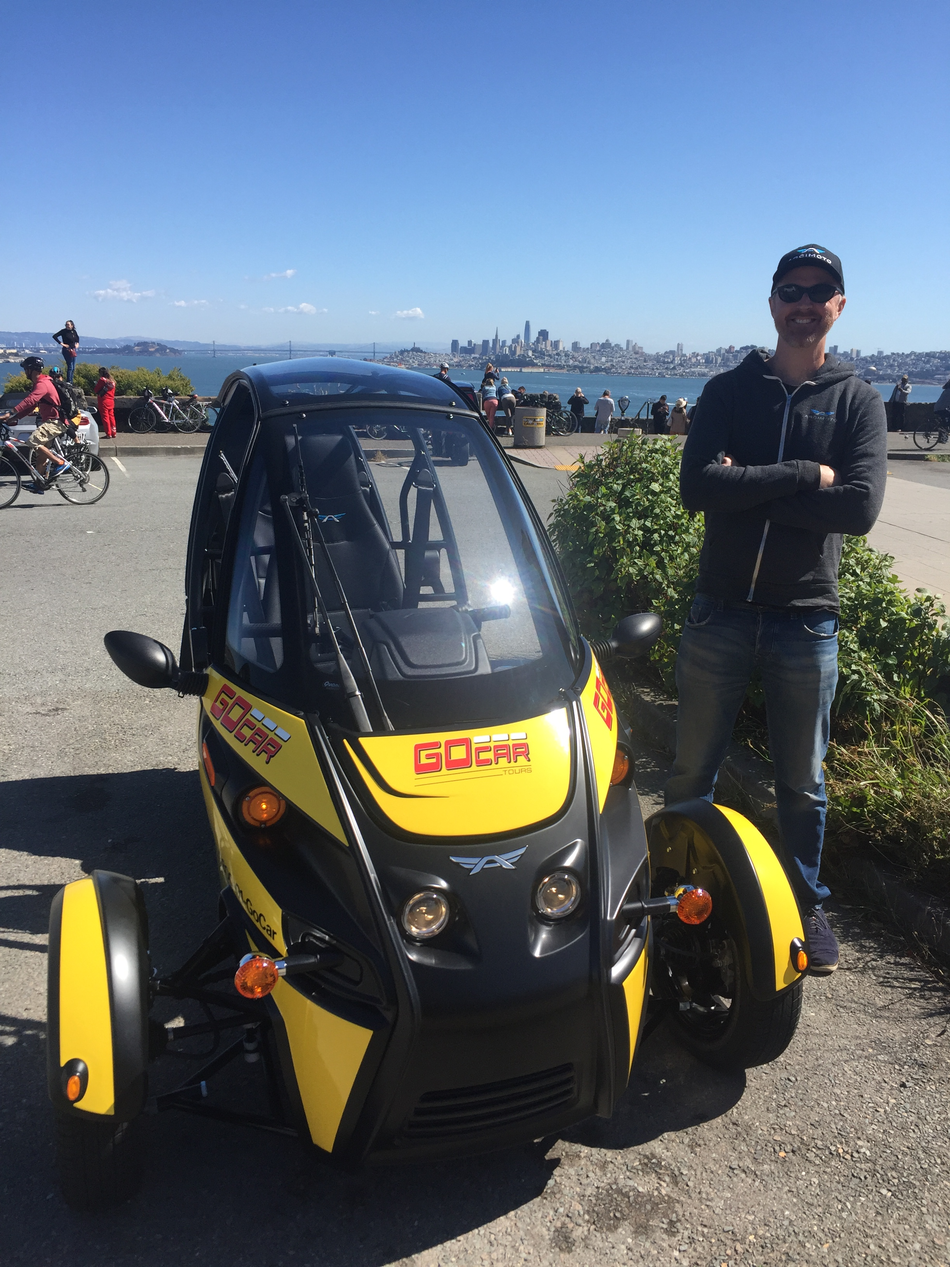 Nathan Withrington, founder of GoCars, said in his personal life he drives electric, so he wanted to make his business emission-free, too. 
"San Francisco is one of the leading cities in the world to fight carbon emissions," he said. Now tourists can be part of the fight while having a unique experience. The Arcimoto cars don't have a steering wheel, but a throttle like a motorcycle. A quick tutorial video at the start of the ride will help passengers learn how to operate the vehicle, which is pretty intuitive and easy. 
The GoCar EVs no longer require passengers to wear helmets and are now highway legal —opening up tours across the bridge and beyond. The Arcimoto can go up 75 mph. With the panoramic roof and protective front windshield, the motorcycle-classified three-wheelers are crash tested. In California, they're exempt from motorcycle license requirements. 
GoCar is also available in San Diego, Madrid, Barcelona, and Lisbon, as well as Monterey, Calif., Porto, Portugal, and Bordeaux, France. Withrington hopes to add more locations in the future. 
For a demo ride across the bridge this week, the vehicles didn't have doors yet, but that's coming. A back storage area keeps your stuff secure. Drivers have a front screen that displays battery levels, energy consumption rates, and speed, and there's a mount with secure bands to keep your phone front and center.
The Arcimoto FUV, which stands for "Fun Utility Vehicle," gets 102.5 miles per charge and can handle about three different city tours before it needs a recharge, which works with any standard EV plug.
Mark Frohnmayer, Arcimoto founder, hopes to offer the energy efficient vehicles to more fleets. Other Arcimoto vehicles include the Deliverator for package or even food deliveries and the Rapid Responder, a version equipped for emergency medical services and security teams.
Arcimoto started production last month for anyone to buy the FUV for $19,900 (before tax credits and rebates). More than 4,000 pre-orders are already lined up and deliveries started in California, Oregon, and Washington in the past few weeks. 
The company is ramping up production in Oregon with a current rate of one vehicle per day. Eventually in the next year or so Arcimoto plans to produce 200 vehicles per week. If you're in SF, you can soon test drive the FUV as part of a GoCar tour. 
read more at https://mashable.com/?utm_campaign=Mash-Prod-RSS-Feedburner-All-Partial&tm_cid=Mash-Prod-RSS-Feedburner-All-Partial by Sasha Lekach
Digital marketing