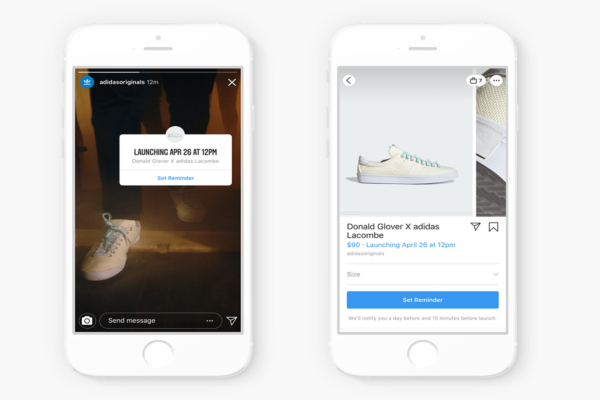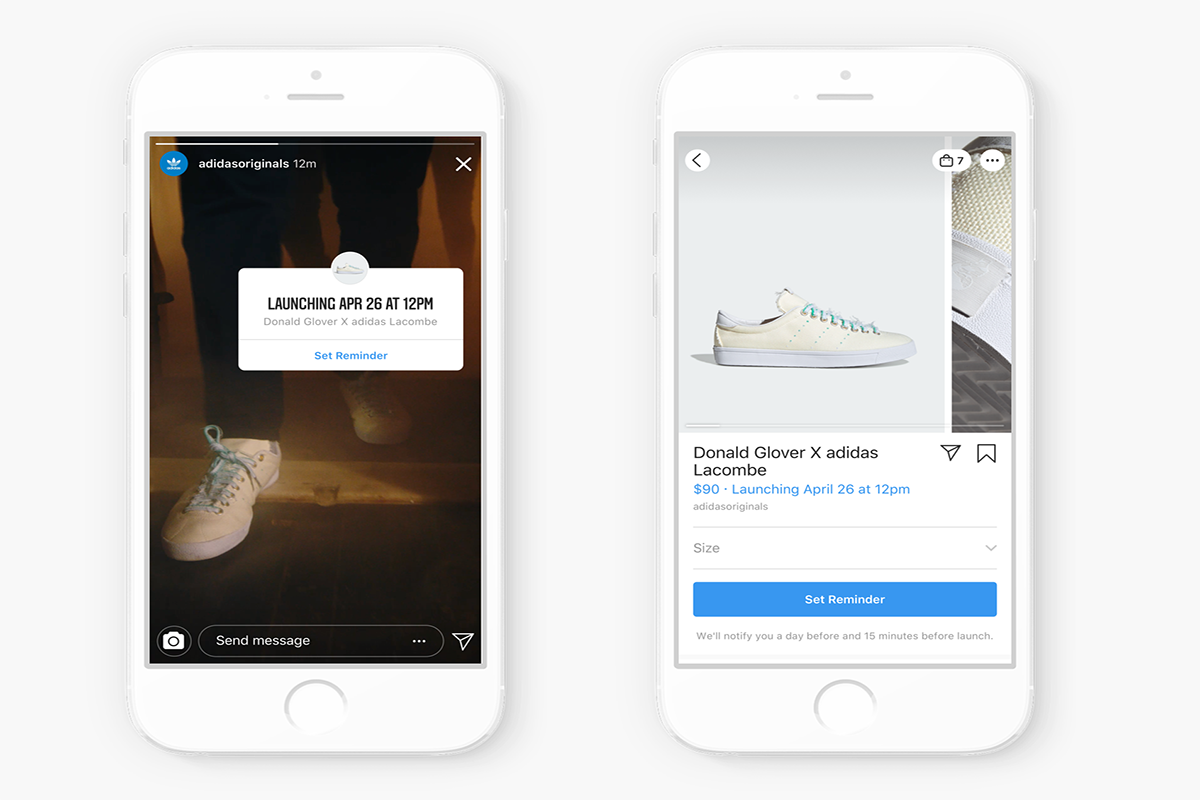 Adidas can now warn of product drops on Insta and shoppers can set an alert
Instagram is testing of reminders about up-coming product launches from key brands, closing the circle of promotion to purchase all within the Instagram app.
According to an Instagram Business blog, the social site wants to make it easier for people to discover and follow upcoming product launches from brands and creators they love. New products in the scheme will now feature a product launch sticker in Instagram Stories and a product launch tag in feed, which will let people set reminders for the launch date, preview product details and buy as soon as a product is available without leaving Instagram.
Instagram says: "On Instagram, latest trends come together in music, art, fashion and more. People follow their favorite brands and creators—all kinds of tastemakers—to keep up with these interests and discover new products. Brands and creators connect with shoppers eager to have those products the instant they're available. The convergence of these activities make Instagram the place where collaborations and limited releases happen."
Brands taking part in the trial include Adidas, Balmain, Benefit Cosmetics, Chinatown Market, Fresh Prince, H&M, Levi's, MAC, Mr Porter, Net-A-Porter and Soul Cycle – see the full list here.
Scott Zalaznik, SVP digital, @adidasoriginals says of Instagram: "The progress Instagram has made with Checkout gives adidas' customers the power to go from inspiration to purchase in an instant. We see adoption improve month to month. With new features like product launch reminders, we expect to see engagement increase as we can create simple, immersive and user-obsessed experiences adidas creators love."
Dan Altmann, president, @chinatownmarket adds: "Drops are a key part of streetwear and we're excited to evolve the industry together with Instagram. From going live on Instagram to designing shirts with our fans to posting Stories around the office, Instagram is the main place we connect with our fans. We were excited to jump on checkout and the response has been incredible with our first drop selling out in seconds. Now, the ability to set reminders will allow our fans to be notified and make the process even more seamless than it already is."
The move by Instagram cements its move into becoming the shopping platform of choice for many millennials and Gen Z-ers, seeking to give them the connection to the brands they love, but also making it easy to see what they want and buy it.
Kevin Murray, managing director at Greenlight Commerce, agrees: "Social media shopping on sites such as Instagram and Facebook continues to grow and this is another great move for brands that want to meet the digital modern customer in their natural habitat. With more than a billion people using Instagram a month, the platform certainly has the audience reach to justify investment from brands. At Greenlight Commerce, we have seen social media become the fastest growing source of revenue for a number of our retail clients. I definitely believe this trend will continue and retailers need to embrace the change."
Commenting on the new notification feature, Murray adds: "This new feature will make a great addition, making it easier for consumers to discover and follow product launches from the brands they love. These product launches, particularly for items such as trainers, have really become events in the modern world and consumers want the ability to get their hands on the product as soon it is launched. Combined with the new Instagram Checkout feature, the merch drop notifications, if it gets rolled out, will further increase purchases carried out via the app."
read more at http://internetretailing.net/ by Paul Skeldon
Business