I recently shot a bunch of simple macro shots of sand textures when I was in Iceland. This was so-called 'black sand' (which is actually volcanic and not really sand) in the area of Stokssnes.
Lately, I've become more and more fascinated by the little things in nature. These patterns were formed by strong winds and incoming/outgoing tides.
I used a simple 28-75mm lens, and by careful positioning (sometimes away from the light and sometimes towards), I managed to capture a bunch of abstract shots that I really loved.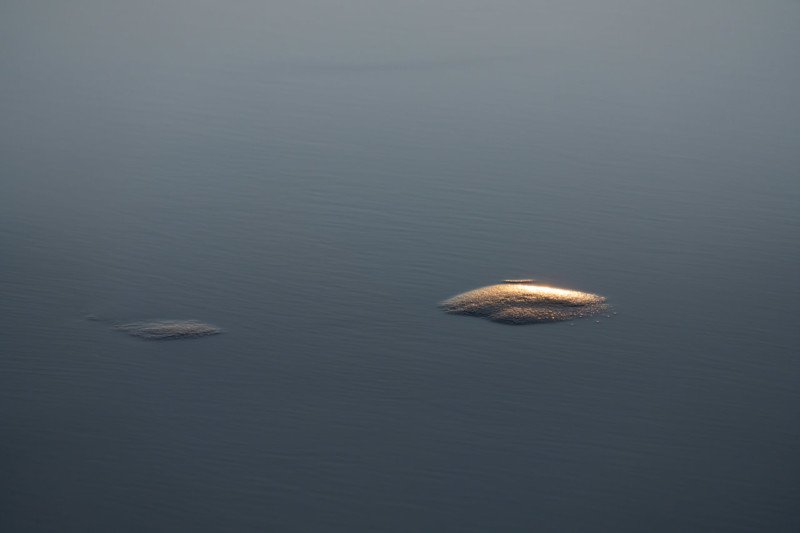 I could really spend hours doing this and it reminds me that landscape photography is so much more than just grand vistas. These textures really reminded me of aerial shots I had seen from deserts, so I decided to do a little experiment. I posted the shots with a caption saying I took them from a plane.
The little 'story' was as follows:
These are images of my new abstract series "Black Desert." This area is a remote place somewhere off the coast in Iceland. I scouted it via Google Earth and decided to fly over there. It's a place where no one lives and it's just an area just completely filled with black sand (volcanic ash). In this area you can find lots of little streams and rivers, some dried up, some not. It looks absolutely surreal from the sky. These series of images show the uniqueness of this place. I call it "the black desert" because it's an area with only black "sand." When it's sunny and you photograph these patterns from the right angle, everything turns to gold.
I have to say: I hate lying to my followers. But this time, it was just a little experiment to see if anyone would notice the deception. It turned out that 99% of the people believed these were aerial shots.
A handful of people commented something like, "if I didn't read the caption I would have thought these were just sand textures." So yes, some did notice! But no one called me out.
What I'm trying to show here is that the beauty of landscape photography doesn't always have to be in the big things. I love shooting amazing scenes, complex wide-angle scenes, amazing light on mountains, etc. But spending some hours just looking at these small textures and how the light was hitting them, and photographing it in a way people couldn't really tell what they were actually looking at is so satisfying.
I love photographing these small things just as much (maybe even more) than photographing the 'bigger' pictures! Oh, and this way you can also save the cost of renting a plane.
---
P.S. This series is still titled "Black Desert."
---
About the author: Albert Dros is an award-winning Dutch photographer. The opinions expressed in this article are solely those of the author. His work has been published by some of the world's biggest media channels, including TIME, The Huffington Post, The Daily Mail, and National Geographic. You can find more of his work on his website, or by following him on Facebook and Instagram.
read more at https://petapixel.com by Albert Dros
Photography