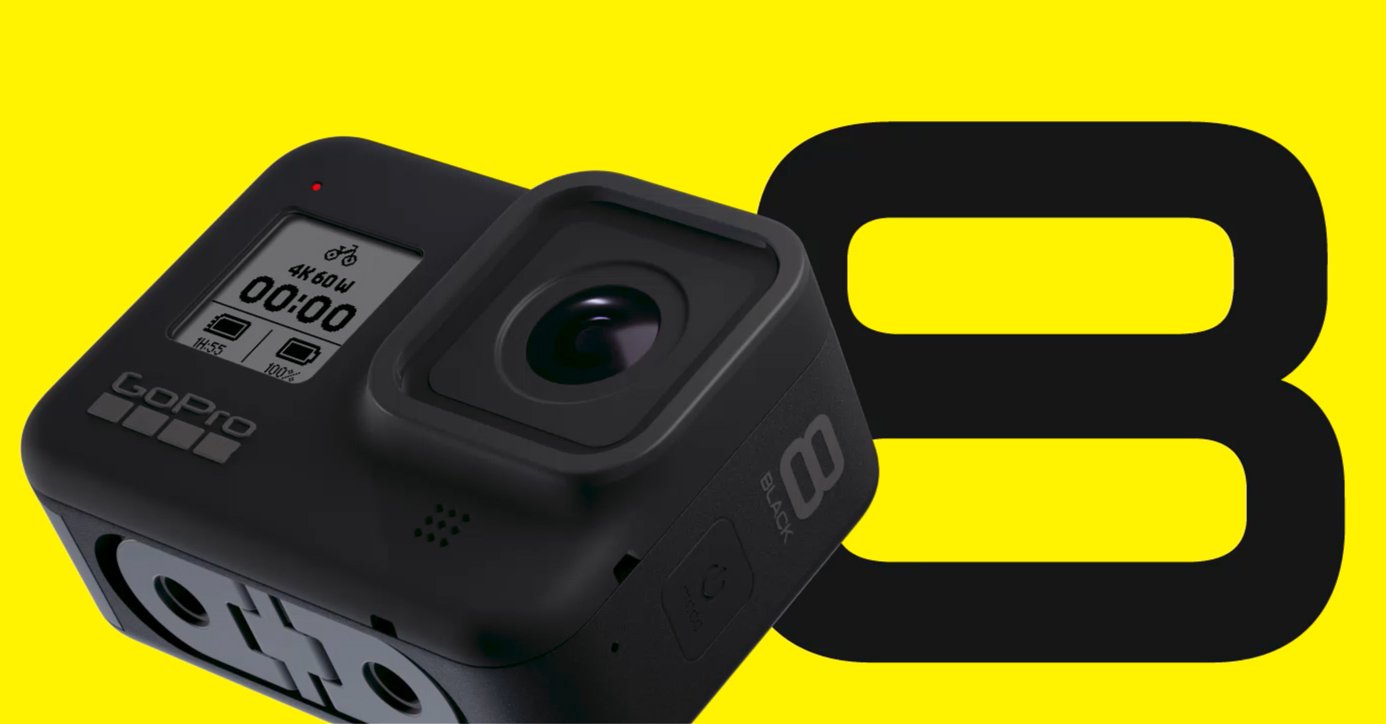 After teasing the announcement date last week, GoPro has unveiled the brand new Hero8 Black right on schedule, debuting Hypersmooth 2.0 stabilization, modular lighting, microphone and display accessories, a built-in foldable mount, something they call 'digital lenses' for in-camera crop, and much more!
It's obvious that pressure from the competitors out there—especially the DJI Osmo Action—has pushed GoPro to really push what you can do with the new Hero8 Black. Here's a quick video intro to the new action cam:
On the surface, the camera looks similar to the Hero7 Black, but GoPro has made it 14% lighter, added a foldable built-in mount, significantly enhanced the built-in microphone, and kept everything waterproof down to 10m (33ft). Base features are similar, with the ability to shoot 4K/60p and 1080/240p video, and capture 12MP photos.
Many of the enhancements come in the way of software, with features like Hypersmooth 2.0 stabilization, the ability to stream 1080p video, a new LiveBurst mode that captures 90 photos total starting 1.5 seconds before you hit the shutter button, Digital Lenses the let you crop from "super view," to "wide," to distortion-free "linear," to "narrow" views that give you more framing options, and a Nightlapse mode that lets you record day to night timelapses in 4K, 2.7K, 1440p or 1080p.
But GoPro went beyond improving the software. The big addition is the "Expansion Mods" that allow you to add an improved microphone, LED lighting, an external display, and more.
The base Media Mod adds a microphone, USB Type-C port, 3.5mm mic jack, HDMI port, and two cold-shoe mounts. From there, you can add any accessories that can mount to the cold shoe and use the provided ports, but GoPro has developed its own external 1.9-inch flip-up display for vlogging and a waterproof LED video light for low-light shooting.
To learn more about any of these features and expansion mods, head over to the GoPro website where you can also pre-order the new GoPro Hero8 Black for $400.
The Hero8 Black is available to order today, with shipments beginning October 15th and retail availability starting October 20th. The Media Mod, Light Mod and Display Mods will all be available for pre-order starting in December (ship date TBD) for $80, $50 and $80, respectively.

read more at https://petapixel.com by DL Cade
Photography