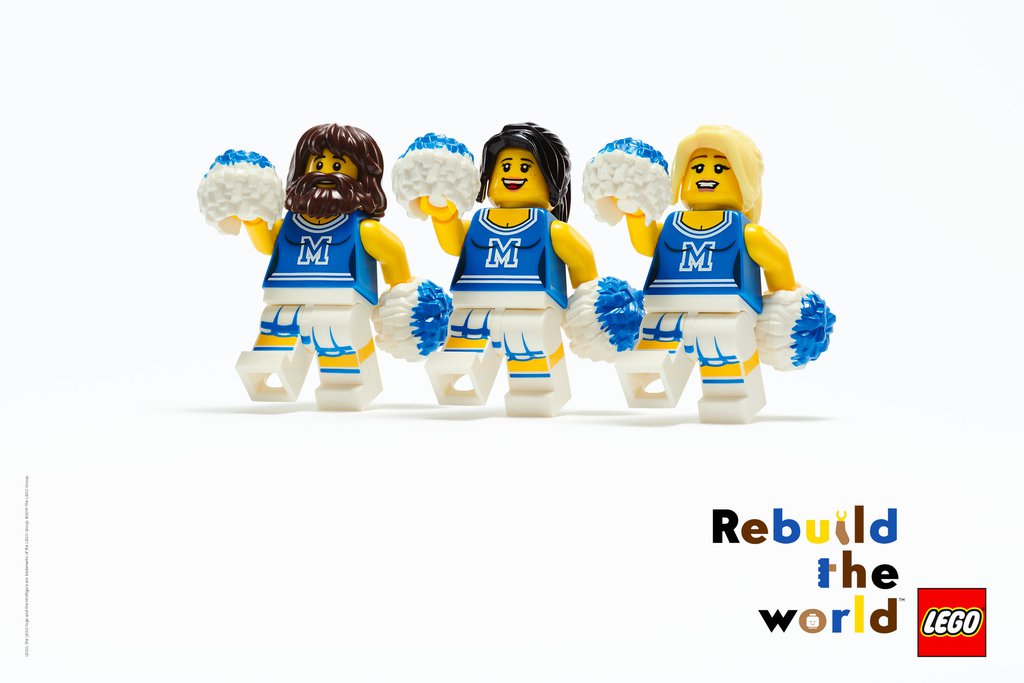 Lego is urging the next generation to "rebuild the world" in the tagline of its first global brand campaign for 30 years.
While the iconic toy company is no stranger to advertising—and could be said to have created the mother of all of branded content franchises with the "Lego Movie" series—it is hoping the new campaign will extend its appeal "beyond" the toy industry and get consumers thinking about it as a brand that stands for creativity, resilience, problem-solving and making the world a better place.
"We see our role as a global force that can inspire creativity," says Remi Marcelli, senior vice president, head of the company's in-house creative agency the Lego Agency, which briefed Paris-based BETC to create the campaign 18 months ago. He describes the campaign as the brand's "most ambitious" to date: "We have proven ourselves in the toy industry and now it's about more than toys."
The aim, he says, is to appeal to people who "respect Lego but who don't necessarily value it as a creative experience" while at the same time creating something "never seen before" that will impress fans of the brand.
The campaign kicks off with a TV spot, directed by Super Bowl veterans Traktor, in the form of a madcap romp about a rabbit trying to escape from a hunter. It starts as a blend of CGI and live action, with a chase through a colorful world involving fire-breathing dragons, flying cars, cops, toboggans and more. Although Lego aficionados may spot plenty of clues and 'Easter Eggs' along the way, it's only revealed at the end that the world is in fact a brick fantasy. (Sort of the opposite of "The Lego Movie", where we find out late on that the whole brick story is a real-life fantasy of a creative kid trying to outwit his restrictive Dad.)
Every character, animal and vehicle is based on an existing or past Lego toy, so heads spin 360 degrees, everyday objects are outsized and more. What's more, each object in the film was made in exact proportion to its equivalent Lego brick.  
Alongside the film, an outdoor and digital outdoor campaign, also with the "Rebuild the World" tagline, will run in cities including London, Paris, Beijing, Mexico City, Berlin, San Francisco and New York. Outdoor creative touches on several topical and even semi-political issues, with references to climate change, transgender and more as well as some simply light-hearted images.
For example: Batman rides a push bike, flowers come out of a car's exhaust, a Lego bride carries a groom in her arms and a lineup of three cheerleaders includes one with a beard. Others are more light-hearted and fun, like a shark carrying a surf board. The bricks were deliberately photographed in high res detail like a pieces of art to give them the feel of luxury items.
Rémi Marcelli, senior vice president, head of the Lego Agency, says he stated with a brief to "trigger curiosity and make people pay attention.' That's the thinking behind the CGI/live action film rather than, say, a world made out of bricks, which could have been too similar to "The Lego Movie."
But Lego also wanted to remind the world of the value of the brand in stimulating the creativity of children – not just in play but in creative problem solving skills. "We want to inspire and develop the people of tomorrow," says Marcelli. "Today's kids playing with Lego could be the doctors, architects and town planners of the future."
"The 'rebuild the world' line resonates very deeply today," adds Rémi Babinet, founder and creative director of BETC, which put its former Evian creative team to work on the brief. "So we created a world where incredible things are possible, but it is a real world. It's an optimistic view of the world, but it's also saying we can do better."
The 500-strong internal agency Lego works with other agencies on an ad-hoc basis, and appointed BETC in order to "stretch the tone of voice" for the brand, says Marcelli. "As an in-house agency there is a tendency to protect the brand so that is why we chose to work with an external partner."
In terms of audience, the campaign is designed to be meaningful and entertaining for both parents and kids. Lego fans will spot fun references, including Lego's first wooden duck toys, a dragon wearing Jeremy Scott Adidas trainers and a life-size replica of the Lego House in Billund. Real life characters like police offers wear replicas of the exact costumes worn by their Lego minifigure counterparts (10 people alone worked on the costumes for the ad.) Production took 18 months, with nine in post-production.
The campaign breaks today in 14 countries in what Marcelli hopes will be a "big thunderclap moment" for the Lego brand.  Julia Goldin, executive VP / Global CMO at Lego, adds: "Rebuild the world is our playful and optimistic point of view on society. It's an invitation to see the world from the eyes of kids, who only see possibilities. The need for creativity has never been greater and Lego building can play a role. No matter how good something is, kids can always reimagine a better version of it."
read more at https://adage.com/section/rss by Alexandra Jardine
Digital marketing