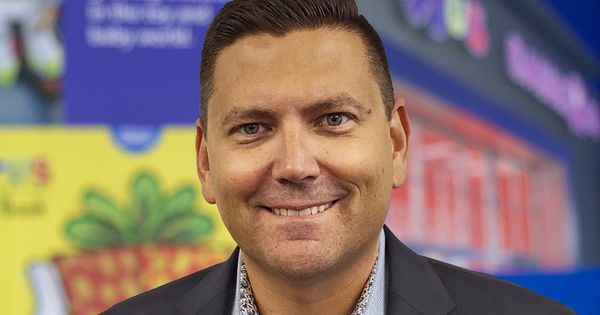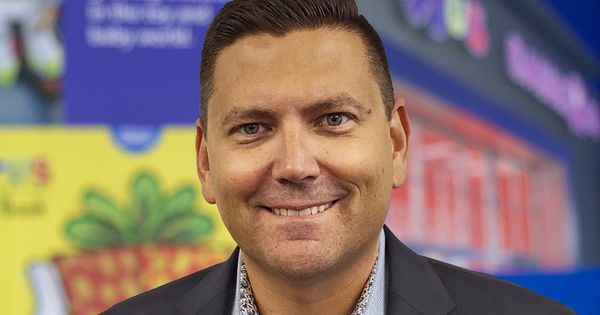 The company that controls the Toys R Us brand has tapped a Toys R Us veteran to help resurrect Toys R Us stores as a place kids beg to visit.
By naming Jamie Uitdenhowen the president of Toy Retail Showrooms, LLC, the investors who are building next-generation toy stores following the collapse of Toys R Us went with someone who is respected and well-liked by toy manufacturers. And if he succeeds in making the new experiential stores winners, those manufacturers will like him a lot more.
First, Uitdenhowen and the rest of the team working on the stores have to win at a game called Beat the Clock.
They face a tight deadline to get the first two next-gen Toys R Us stores open before Thanksgiving, and the start of the peak toy shopping season.
Uitdenhowen, who was looking at potential holiday bestsellers two hours after his appointment was announced Thursday, at the annual holiday toy showcase hosted by toy review website TTPM, said he is ready for the challenge. Asked if he was worried about the deadline, Uitdenhowen pulled out his phone and showed a motivational tool installed at the company headquarters to keep everybody on track: a countdown clock showing the days, hours, minutes, and seconds left to get the stores ready.
Uitdenhowen, in his new job, will be part of what could be a radical reinvention of Toys R Us. Tru Kids Brands, the parent company that owns the Toys R Us trademarks, and all that was left after Toys R Us liquidated all of its U.S. stores following its 2017 bankruptcy, has partnered with retail-as-a-service innovator b8ta, which has created stores that are more like showcases for a select assortment of cutting edge products that customers can touch, and explore, and perhaps make their purchase online, after they return home.
Tru Kids Brands and b8ta will each have a 50% stake in the new stores, and Tru Kids, headed by CEO Richard Barry, another Toys R Us veteran, is hoping b8ta will help it transform the toy-selling experience.
"It's going to be an entirely new experience," said TTPM CEO Jim Silver. "I think when consumers see them they'll find that they are very different from the old Toys R Us stores."
Toys R Us provided a taste of that at the TTPM event, setting up a "magic mirror" with an interactive image of Toys R Us mascot Geoffrey that mimics the movements of someone standing in front of the mirror.
The first next-gen Toys R Us stores will open in Paramus, N.j., at the Westfield Garden State Plaza, and at The Galleria mall in Houston. Another 10 stores are planned to open next year.
Like other b8ta stores, toy brands will lease, or have what b8ta calls a subscription, for space in the store. B8ta providers vendors with analytics about how customers are interacting with products, and buying patterns.
Uitdenhowen, who is in his 40s, is a two-decade industry veteran, but still is young enough to be viewed as a rising star in the toy world. He was one of the youngest members of the management team at the old Toys R Us when he was promoted to vice president, general merchandising manager in 2013.
He started at the company in 1999 as a merchandising analyst, and received numerous promotions in the buying and merchandising departments over 18 years. He left Toys R Us in 2017 to become chief merchandising officer at Party City.
The b8ta and Toys R Us partnership may seem like an unlikely alliance, but it was born out of past relationships.
Phillip Raub, co-founder and president of b8ta, and interim co-CEO with Barry of the Toys R Us joint venture, was with Nintendo from 2007 to 2013, first as director of merchandising and then as director of retail channel marketing, and as a result is very familiar with Barry and Uitdenhowen, and the Toys R Us business model.
"Having previously worked with Jamie, I'm excited for his return to the Toys R Us team," Raub said in a statement. Uitdenhowen's "knowledge of the industry and vision for building a dynamic experience for kids and families make him the ideal fit for our business moving forward," Raub said.
A big part of Uitdenhowen's new job will be developing partnerships with toy manufacturers and brands that might be wary of this new way to sell toys. For startup toy brands, space in one of the new Toys R Us stores could be a crucial way to get exposure. Hot, bestselling brands might be harder to convince.
Manufacturers and brand representatives at the TTPM showcase Thursday spoke of how much they liked dealing with Uitdenhowen when he was at Toys R Us. "He's a merchant. He knows what sells," said one.
The success of the next-gen stores will depend on Toys R Us being able to convince the industry it can play nicely with manufacturers, after burning them in the bankruptcy. Barry and Uitdenhowen were two of the best-liked executives at Toys R Us in its final pre-bankruptcy years. But what the toy world really loves the most is a hit.
read more at http://www.forbes.com/retail/ by Joan Verdon, Contributor
Business