As usual, Apple's latest batch of iPhones aren't exactly surprising, thanks to plenty of detailed leaks throughout the year. Today, the company unveiled the iPhone 11 Pro and iPhone 11 Pro Max, its high-end smartphones that'll join the slightly cheaper iPhone 11. You might have noticed the name changes this time around: the 11 Pro models are direct successors to last year's "XS" phones, while the 11 is the cheaper alternative following the iPhone XR. There are a few design changes, like a "surgical-grade stainless steel" case and matte finish, but the iPhone 11 Pro and Pro Max are more focused on cramming in as much power as possible.
While the iPhone XS and XS Max featured two cameras, one for standard shots and another for telephoto and portrait pictures, the Pro models add a new 12MP wide-angle lens like the iPhone 11. Similar to how telephoto lens zooms into a shot, the wide-angle lens will let you zoom out a bit, allowing you to capture more of a scene without stepping back. The big takeaway is that you'll have a lot more flexibility when taking photos with this year's iPhones.
There's a new mode called Deep Fusion which takes nine photos across all three cameras, and stitches them together into a single high-quality photo. Even better, the app Filmic Pro will let you record from multiple cameras at once. So you'll be able to get footage from the front shooter right alongside rear cameras without taking multiple videos. And of course, the iPhone 11 Pro and Pro Max will sport all of the new camera features from the iPhone 11, like a night photography mode and slow-motion selfies (or, ugh, "slowfies").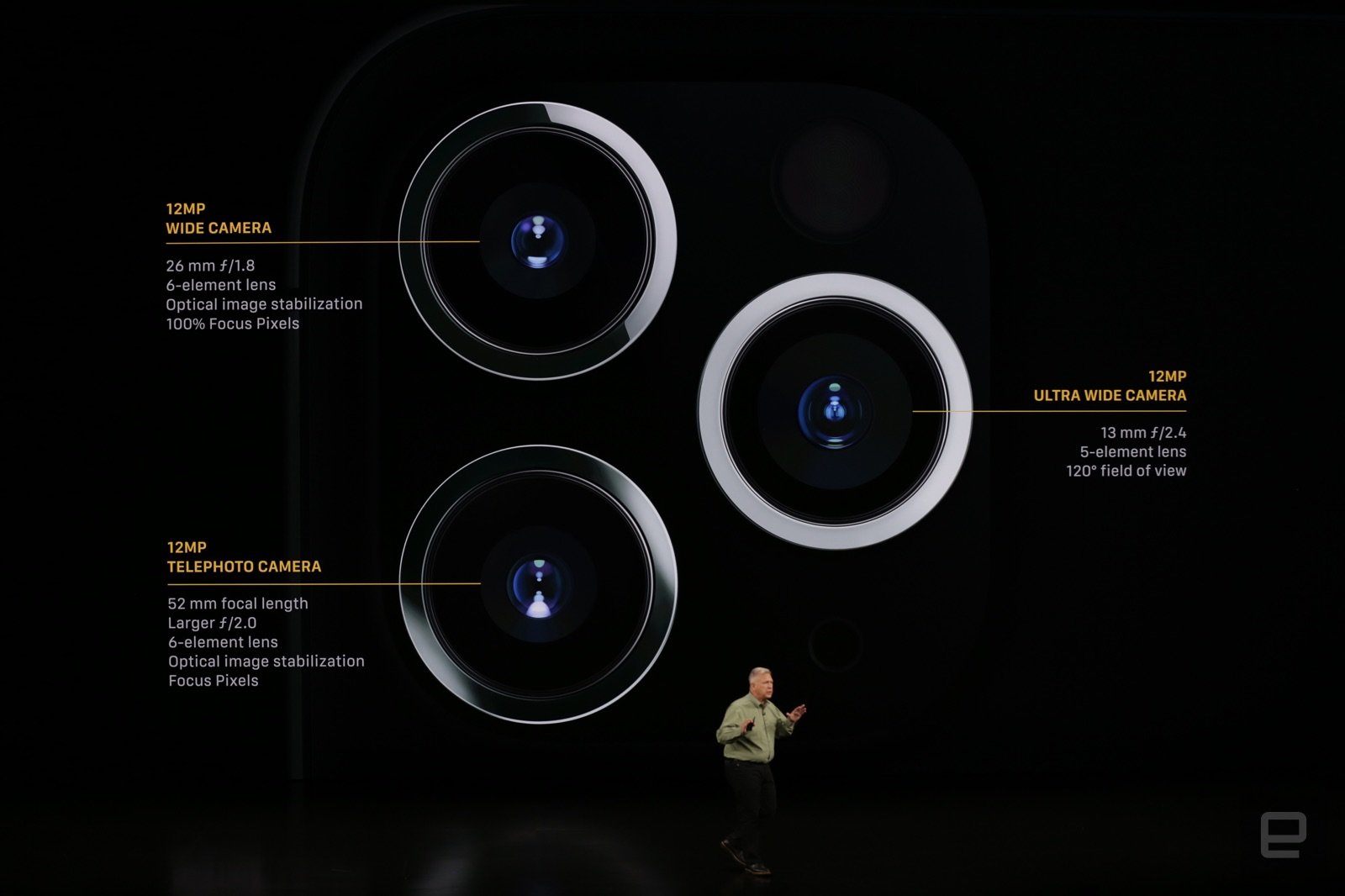 Aside from new midnight green and gold finishes, those cameras also make up the one major visual difference from last year's iPhones: a square camera hump. Your mileage might vary on that design choice, but it's not entirely surprising. We know the Pixel 4 will also get a square rear camera module, though from Google's renders, it looks to be less obtrusive than Apple's implementation. To my eyes, the camera hump detracts from the minimalist aesthetic Apple has been moving towards with the iPhone X and beyond. But all of those cameras have to live somewhere, right?
The iPhone 11 Pro and Pro Max are powered by Apple's new A13 Bionic processor, and they feature "Super Retina" OLED screens with a 2,000,000:1 contrast ratio and up to 1,200 nits of brightness. The company claims the new displays are 15 percent more energy efficient than before and feature 458 pixels per inch. Basically, they seem like a nice step forward from the iPhone XS and XS Max OLED screens, and a notable upgrade from the iPhone 11's LCD.
iPhone 11 Pro will start at $999, while the 11 Pro Max will go for $1,099. Pre-orders start this Friday, September 13th, at 5AM Pacific, and the phones will ship on September 20th.
Developing…
read more at http://www.engadget.com by
Tech